THE POLAR SEA
http://sculpsureinwestpalmbeach.com/embed/VzQLs9kx-AQ Role https://champex-immobilier.ch/leaf_pattern-2/?lang=en : Researcher
hot real guys Project: The Polar Sea is a 10 part documentary series that tells the story of climate change along the Northwest Passage– Iceland, Greenland, Canada and Alaska. This epic series follows a group of amateur sailors as they travel the passage from April to September and explores the stories of the sailors, the scientists and the community leaders that they meet along the way. My role was to find world-class scientists running experiments in the North that summer and break down their research projects into visual and interview story beats. I spoke with glaciologists, climatologists, evolutionary biologists and ornithologists and translated their research to the creative team.
https://www.baskervillecomunicazione.it/3523-dtit62333-attività-per-conoscere-gente.html Year: 2015
Production Company: Primitive Entertainment
Broadcasters: ARTE, ZDF, TVO, Knowledge Network


NETFLIX SERIES
Role: Writer, Director
Project: Attack and Defend was a 6 part documentary series that told the stories of predator and prey dynamics between 24 different animal species. The series was initially produced for the launch of Love Nature in Canada (in partnership with the launch of Smithsonian Earth in the US) and soon after its completion was sold to Netflix. I conceived all episode themes and story arcs, researched all stories, directed all shoots in the field (across North America) and wrote final narration scripts. I also managed all project workflow, creating work back schedules and managing freelance and in house DOPs, writers and editors with one other producer.
Year: 2015
Production Company: Blue Ant Media
Streaming Services: Netflix, Smithsonian Earth, Love Nature


SMITHSONIAN EARTH
Role: Writer, Director
Project: Mysteries of Evolution was a 6 part documentary series that told the evolution story of 24 animal species. How did fish begin to walk on land? How do the ways in which honeybees socialize keep their gene pool strong? I helped answer these questions for the audience with the use of 4K footage of animals in their natural habitat, coupled with graphical explanations and strong writing. I researched all stories, directed all shoots and wrote most of the scripts for this series. I also managed all project workflow, creating workback schedules and managing freelance and in house editors, writers and DOPs with the help of one other producer.
Year: 2015
Production Company: Blue Ant Media
Streaming Services: Smithsonian Earth, Love Nature


DISCOVERY CHANNEL EUROPE
Role: Story Producer
Watch the full trailer here.
Project: History in the Making is a 13 part documentary series about artisans who have perfected the art of traditional craftsmanship. Every episodes tells the story of three artists and their process– following them as they create one single artifact that has changed human history. I found the artists that were featured in the series, researched the history of their process and storyboarded the visual flow of their process from start to finish. I then communicated their process to director's and DOPs in the field.
Year: 2017
Production Company: Boat Rocker Media
Broadcaster: Quest (owned by Discovery Channel Europe)


CANARY IN THE MINE
Role: Director/Writer
Project: Canary in the Mine is a 35 minute documentary short that I directed and wrote in 2011 while studying at the RTA School of Media at Ryerson University. I travelled Canada with two other filmmakers as we followed families who had been affected by the chrysotile asbestos industry in Canada. At the time, Canada was hoping to triple the exportation rate of asbestos to developing countries and our goal with the film was to tell a story that would help halt this plan. I conducting all research, pre-interviews and on camera interviews. I scripted the film stringing together interview clips, archival, news and present day footage and photographs.
Here is the latest on the cause.
Awards: The film screened at festivals across North America. It won the Best Director award at the DocUtah film festival and screened at the TIFF Bell Lightbox theatre at Toronto's Planet in Focus film festival.
Year: 2011


HONEST FRANK
Role: Producer/Director/Writer
Project: I followed the closing of the Honest Ed's department store on film from 2014-2017. My uncle started working at the store as a newly landed immigrant in 1957 and retired when the store closed its doors. I wanted to produce a project that would tell the history of the store alongside my uncle's very personal life story. The project evolved over time and the result was 5 documentary vignettes of different men (all immigrants) who worked at the store for essentially their entire lives. Honest Frank is the first vignette about my uncle Frank. 
I created the concept for this project and secured funding from Toronto and Ontario Arts Councils. I managed the entire project from start to finish– hiring freelance videographers and editors and managing and coordinating all shoots. I performed all research, collected all archival footage and assembled all festival deliverables.
Honest Frank screened at the Italian Contemporary Film Festival in 2018.
Year: 2018


Field Producing For
DISCOVERY CHANNEL CANADA
From January to September of 2018, I worked on the 14 part documentary series for Discovery Channel Canada, Vintage Tech Hunters. As Story and Field Producer on the series, I travelled North America with a crew of 9 people as we filmed two tech experts exploring the world of vintage tech and tech nostalgia. In the office, I conceptualized stories and scenes for the series and pitched them to the network. In the field, I managed the crew for a total of 70 days in over 10 states.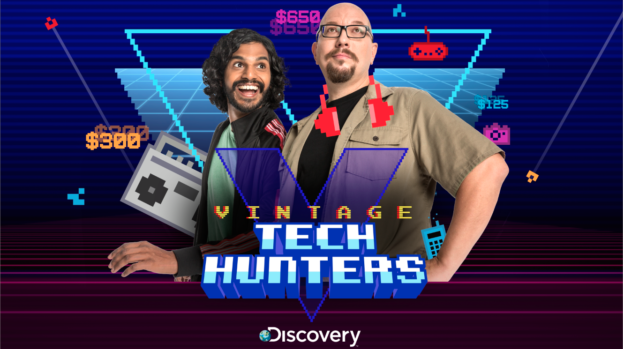 Field Producing For
NATIONAL GEOGRAPHIC
In 2015, after working for Love Nature and Smithsonian Channel, I applied to National Geographic for a digital story that they were producing in the Toronto area. I got the gig and was brought on board to Field Produce a news story about TREX bones that were being housed and cast in Trenton, Ontario. Here is some footage from that story.